Getting Here!
The ESVA is nestled between the                                   Chesapeake Bay and the Atlantic Ocean,                                    which means that the only way to get here (by car, anyway!) is from the North via Delaware & Maryland, or from the South, by crossing the CBBT. For those arriving by boat, our bayside UkeFest is surely unlike any other–we have several mooring options for you!
Regardless of how you arrive, you'll be glad you did! 
Additional Information
For point-to-point directions, use MapQuest, Google Maps or your favorite mapping tool to these GPS coordinates (37.267237, -76.019649). Cape Charles is located about 10 miles North of the CBBT.
IMPORTANT! Be careful to observe the posted speed limits! Lankford Highway 13 is 55 MPH, and as you enter town, the speed limit drops from 55 MPH to 40, and then to 25 town-wide. Parking is available along the residential streets throughout town. Please be courteous of residents, bicycles & golf carts as you find parking and explore the town…Enjoy!
Workshops
Central Park Concerts
Bayside Beach Jam
We are working on securing some great rates for attendees and local lodging facilities…

stay tuned, but don't wait too long to book!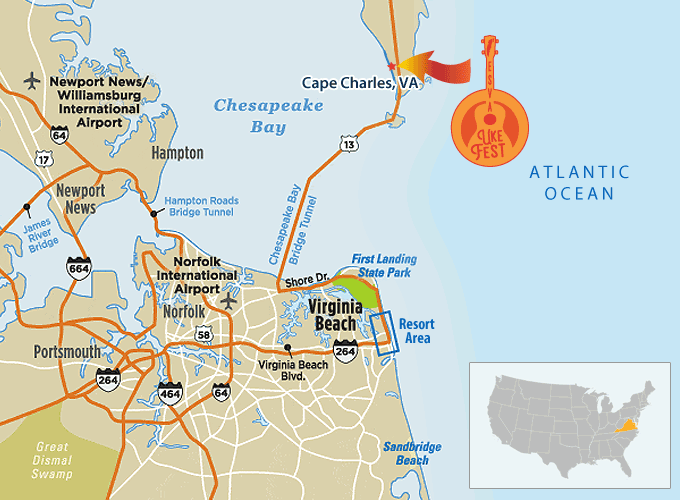 Bayside Sunset Uke Jam Countdown!
From NC & Mainland VA
Via US Hwy 13 North & the CBBT



Whether you are arriving via I−64 East or West, take Exit 282 towards the Chesapeake Bay Bridge−Tunnel. Merge onto Route 13 North and follow the small blue signs with a white seagull (for the Bridge−Tunnel). Once over the bridge, continue along Route 13N/Lankford Highway for about 10 miles. At the first light (immediately after the plaza on your right with McDonald's and Food Lion), make a left onto Route 184 West (Stone Road) towards downtown Cape Charles.
From Richmond/ Baltimore/DC Areas
Via I-64E
You have the choice of taking I-95 South towards Norfolk, VA and then the Chesapeake Bay Bridge−Tunnel (follow directions from Mainland Virginia); or crossing over the Bay Bridge at Annapolis, Maryland to Route 50 East. At Salisbury, Maryland, you will pick up Route 13 South (follow directions from the North).
From the North
Via Delmarva & US Hwy 13 South

 
Route 13 runs North and South up and down the Delmarva Peninsula through Delaware, Maryland, and Virginia. Once on Route 13 South/Lankford Highway in Virginia, continue South towards the Chesapeake Bay Bridge−Tunnel. Once you are through Cheriton, VA, Cape Charles is the next town. You will pass a Hardee's and Valero gas station on your left. At the next light, make a right onto Route 184 West (Stone Road) towards downtown Cape Charles.
Tolls may be required…be aware!
Cape Charles Town Harbor
The Municipal Corporation of Cape Charles Harbor ably hosts a unique mix of commercial, industrial, and recreational vessels in its protective basin with 95 slips,   4 T-Heads ranging from 60-120′ and 1200′ of dock space….just a short cart ride from the park!
Click the image for additional information.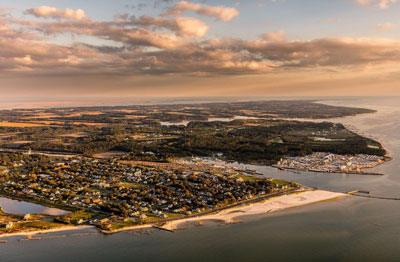 Oyster Farm Marina at King's Creek
Constructed of superior Brazilian Walnut decking, the Oyster Farm Marina at Kings Creek boasts 124 floating slips and are fully cushioned, single loading, providing accommodations for boats up to 150'. Site of the 2020 ESVA UkeFest Sunset Jam!
Click the image for additional information.