ESVA UkeFest
June 17-19, 2022
Stay tuned for 2022! We are planning on reconvening our Annual ESVA UkeFest on the Chesapeake Bay, featuring national & regional Ukulele perfomances, bayside beach jams, an open mic contest, workshops & more! Come play with us, visit local shops & restaurants, and discover—or rediscover!—our beautiful home, the Eastern Shore of Virginia!
Educational workshops, local ukulele clubs, & professional headliners await you at our Annual ESVA UkeFest. We are so excited to announce that our headliner this year will be none other than Danielle Ate the Sandwich, all the way from Missouri! This is your chance to be up-close and personal with some amazing talent through our small-group workshops & unique venues!
Whether you are looking to sing more soulfully with the uke, learn some new strums, dabble in electronic effects, or just sit back and listen to some great ukulele tunes, we have something for you! Please note that most events require paid registration. All live music in Central Park on Saturday is FREE and open to the public!  For a detailed schedule click here for a printable PDF.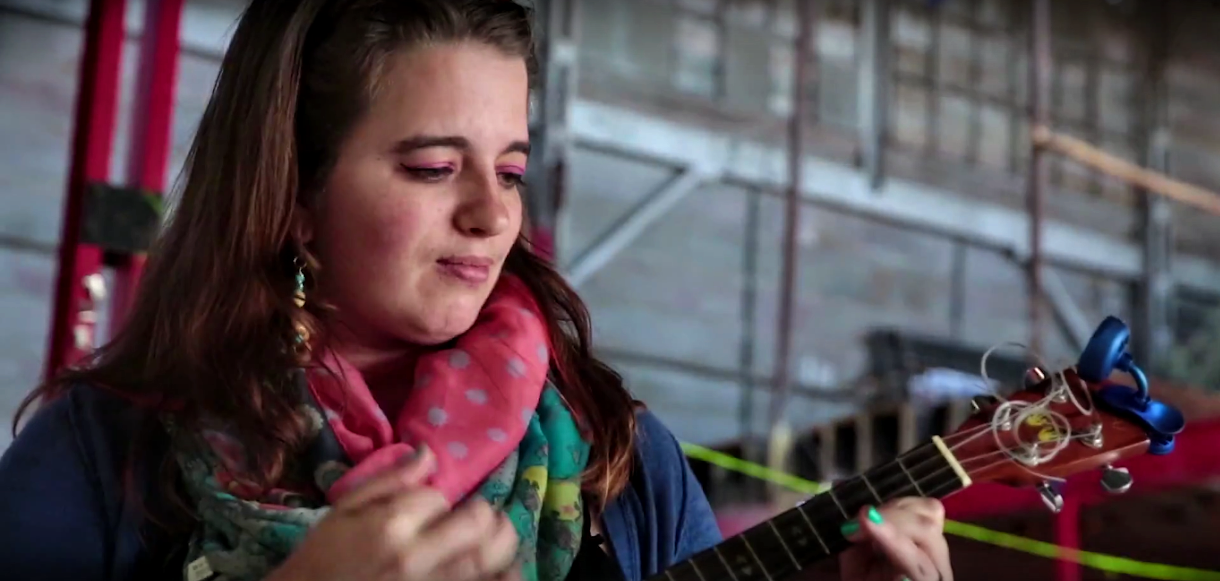 Skye Zentz
ESVA UkeFest Guest Emcee
We are so pleased to welcome back to ESVA UkeFest Norfolk's very own Skye Zentz! In addition to leading her popular Songwriting workshop, this year she's also bringing her talent to the UkeFest stage as Guest MC…you are sure to be entertained! Skye has some special performances planned too, so don't miss it! 
Norfolk, VA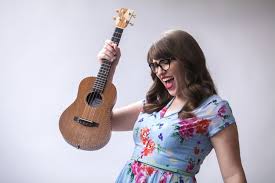 Danielle Ate the Sandwich
Saturday, June 18, 2022 8-9 pm
Danielle Ate the Sandwich, is the stage name of pop-folk songwriter, Danielle Anderson. Getting her start in Fort Collins, Colorado, Danielle has been touring nationally since 2009, after cultivating an online following from her homemade videos on Youtube and her unique style of online marketing that brings her music to the audience she affectionately refers to as "Fanwiches." Her songs can be thoughtful, heavy, and serious, but Danielle rarely takes herself seriously. She's known for her quirky lyrical twists, performing most frequently with a ukulele and delivering witty and honest stage banter in her live shows. 
Kansas City, MO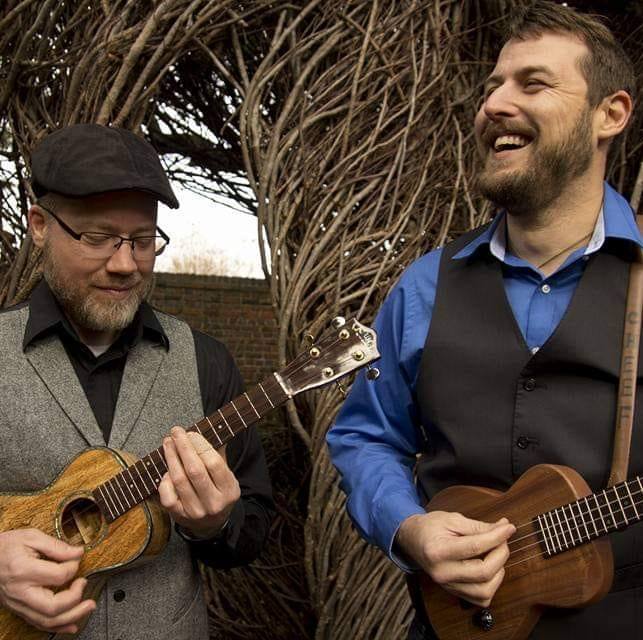 The Kings Of Ukulele
Saturday, June 18, 2022 7-7:50 pm 

 
Sponsored by Lanikai Ukuleles, the Kings of Ukulele are a Tidewater gem, playing all styles and genres of hits, ranging from reggae to rock, traditional island songs to hits from the 80's, and jazz standards, too. They've shared the stage with national recording artists such as Mishka, The Beach Boys, and even Marilyn Manson!
The Kings of Ukulele are: Kevin "Mink" Turner – Ukulele; Rob 'Bass' Wilkins – Bass; Big George Sears – Drums; Cheef Alec Poletsky – Ukulele
Hampton Roads, VA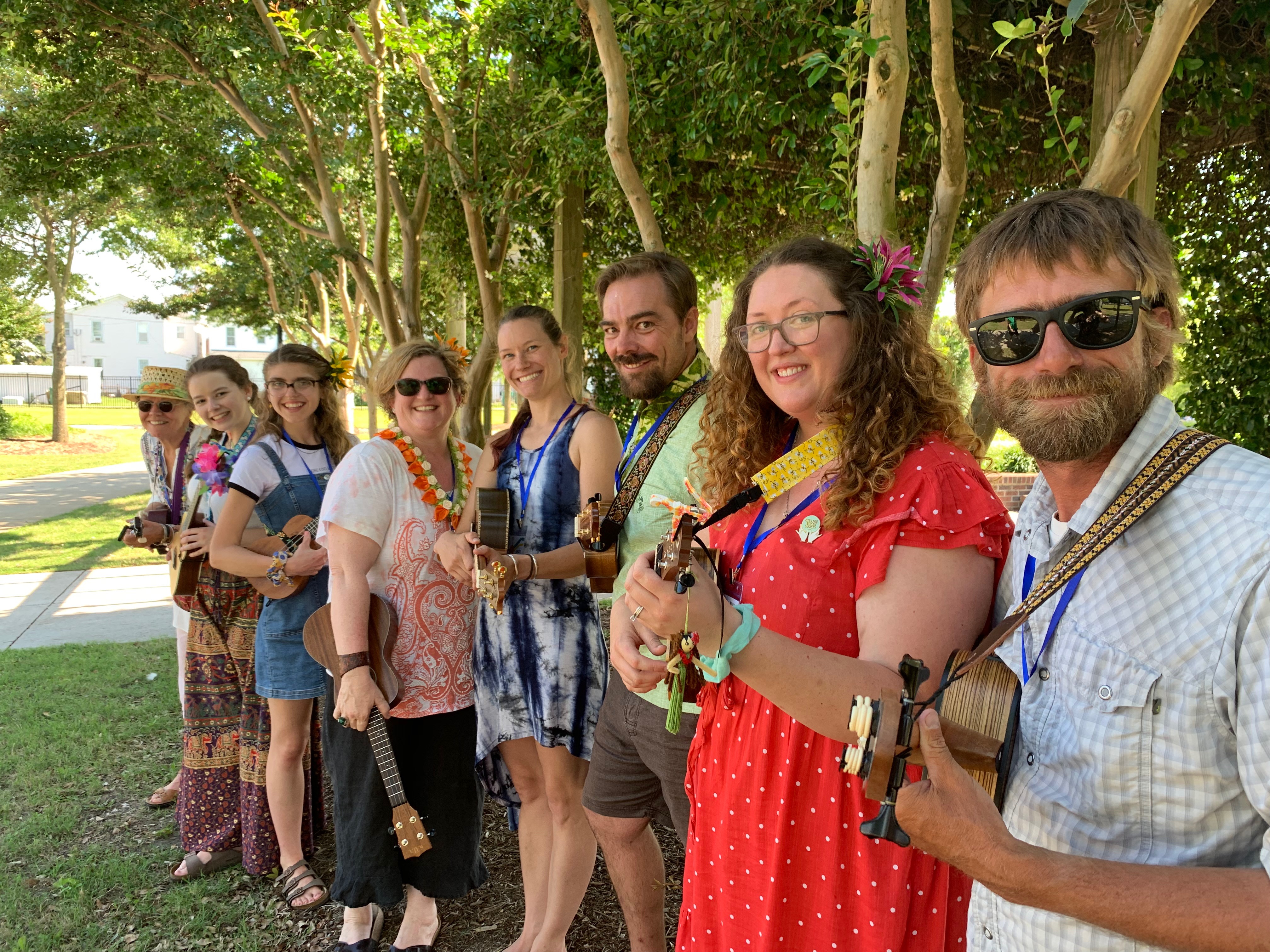 Your Hosts

…

The Sonic Ukes!
Saturday, June 18, 2022 6-6:50 pm 
Since 2017, the Sonic Ukes have been entertaining & educating the local folks on the ESVA with the wonderful Ukulele–a first for the Shore! In that tradition, they proudly launched ESVA UkeFest in 2019 to show off a bit of the Shore to Ukulele enthusiasts from all around. Be sure to catch their stage-set. Offstage, they'll be running around making sure you are enjoying yourself at 2020  ESVA UkeFest, so say "Hi!" if you see them!
Eastern Shore of Virginia
Session I Workshops
Saturday, June 18, 2022
8:30-9:30 AM
Electric Orchestra w/Dave Rueckert
Backstage Classroom
TBA w/Dr. A
Hallway Classroom
Soulful Singing & Playing on the Uke* w/Danielle ATS
Civic Center
Session II Workshops
Saturday, June 18, 2022
9:50-10:50 AM
Songwriting                   w/Skye Zentz
Backstage Classroom
Ukulele for Guitar Players w/Scott Wade
Hallway Classroom
Intro to Strumming w/Melissa Nannen
Civic Center
Session III Workshops
Saturday, June 18, 2022
11:15-12:15 PM
Rock Ukulele w/Melissa Nannen
Backstage Classroom
Songs w/Nonsense Lyrics from the Blues, Jazz & Jug Band Repertoire

w/Dave Rueckert
Hallway Classroom
Soulful Singing & Playing on the Uke* w/Danielle ATS
Civic Center
When registration opens, be sure to grab your Early Bird pricing to reserve your workshop choices! 
If you attended 2019's inaugural event, please stay tuned for an email with a special offer just for alum!
EARLY-BIRD PRICE!
Swag-Bag & Jam Book

Bayside Sunset Jam

Workshops (Up to 3)

Vendor Gallery

Local Business Discounts

Open Mic Contest

Live Music in the Park

Farewell Coffee & Jam